Techno Frog: Property Magnate
A downloadable game for Windows
The only thing Techno Frog loves more than dark electronic music is buying property. BUY IT ALL. Watch out for all the stinkin' capitalist animals that want to steal his money and murder him. WATCH OUT.
---------
Arrow keys = movement
EAT COINS.
BUY PROPERTY.
THAT'S IT.
---------
A mash-up of Frogger, Pac-Man and Monopoly, with a general idea of 'shuffling'/gambling, taken from various card games. Made for https://itch.io/jam/mashupjam

Instructions and credits in-game.
Or give this an eyeball for extra info: https://atomic-toilet.itch.io/techno-frog-property-magnate/devlog/80354/techno-frog-released
-----------
nb. maddeningly, the only bug is a graphics glitch that sometimes draws extra 32x32 pixel blocks in a level [shown below] - they don't actually exist, though, so you can pass right through them. THIS GAME IS A MESS as it seems to overlay levels on top of each other, so it kind of becomes unplayable. Whoops!

Not sure what's causing this, as I clear the surface every room end, and it only started happening as I put the finishing touches to the game (something might be conflicting with the surface object, but I can't for the life of me figure out what).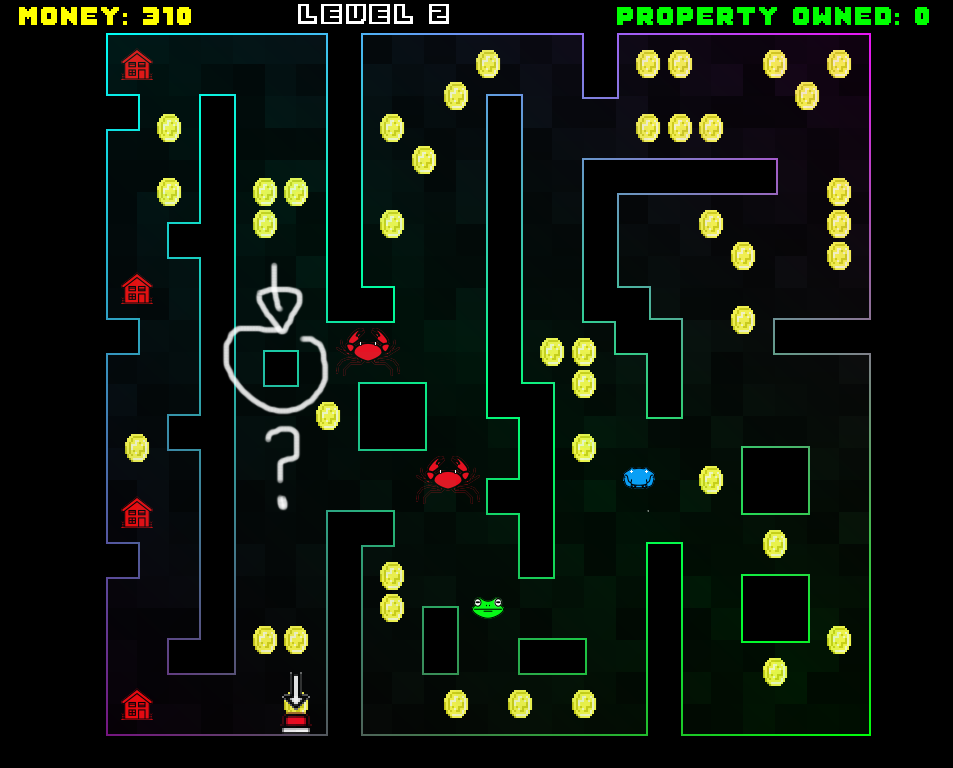 Download
Click download now to get access to the following files:
Techno Frog Property Magnate.exe
34 MB